Geometria
provides a graphic interface for creating and solving problems in solid geometry. It runs in your web browser. No Internet connection is necessary.
Geometria
is free software.
With
Geometria
, one can draw and measure segments and angles, compute areas and volumes, transform, cut and join figures. Figures can be turned around and manipulated as easily as if having them in one's hands.
The all-web
release 4.0
has arrived!
Online look and feel
Cross-platform
Download, unzip, run in a minute or less
Built-in file navigator
Integrated context-sensitive help
HTML markup support for user text
Written entirely in Javascript
Based on open-source technologies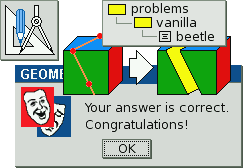 Geometria
is packed with a repository of sample problems and their solutions classified, according to their complexity, into 4 categories.
Labels and variables conveniently shield the user from numeric coordinates and measurements. Variables are used in calculations and referenced in drawings.
The legacy 3.2 Java version has been retired and is no longer supported.
Don't know where to start? Cannot find what you need? Want to propose a new feature or comment on existing ones?
Got a cool problem or figure to include in our samples? Write to us. We will gladly review it.