A graphic interface for creating and solving problems in solid geometry. Packed with 30 sample problems and solutions. Free to use and distribute.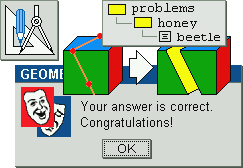 Allows you to draw and measure lines and angles, measure areas and volumes, transform, cut and join figures.
Geometria's MS DOS grandfather. Its vivid graphics and animated interludes still look impressive.